Well my mother wanted a new bookcase to go in her living room. She dreamed up a simple and a bit modern design that featured full overlay drawers and a smoothe clean look all around the piece.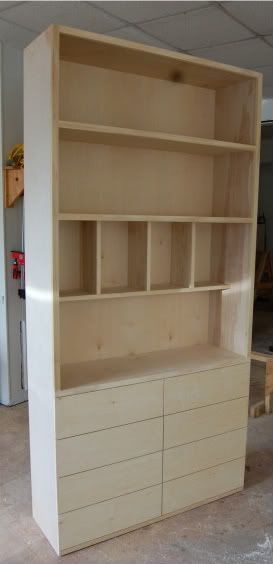 Pretty simple but nice. I used 3/4" and 1/2" birch plywood for the construction and some 3/4" poplar for the face frames. I bought some full extention drawer slides from a local wholesale supplier for about $13 a pair, talk about a deal. I was paying somewhere around $20-$25 a pair, I'm glad I found these!
Anyways, I finished it will some red mahogany stain after I applied a bit of prestain right before. It was my first time using prestain and I think it may help a little bit, but not a really big difference. I then aplied 2 coats of high gloss poly to finish it off and seal the piece. I don't have a photo of that at the moment but I will try to get one up soon.